The Festive Features At Ticketsolve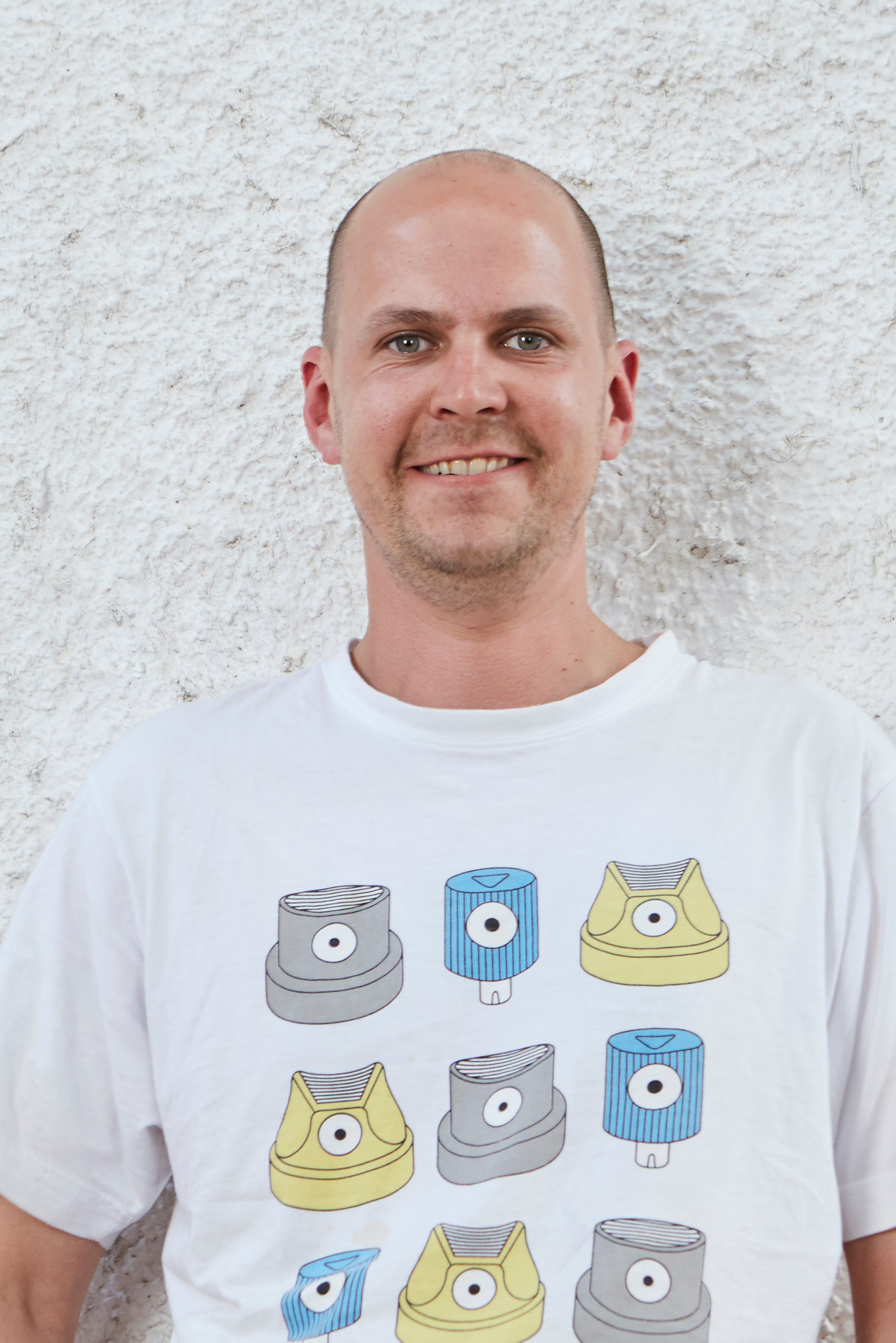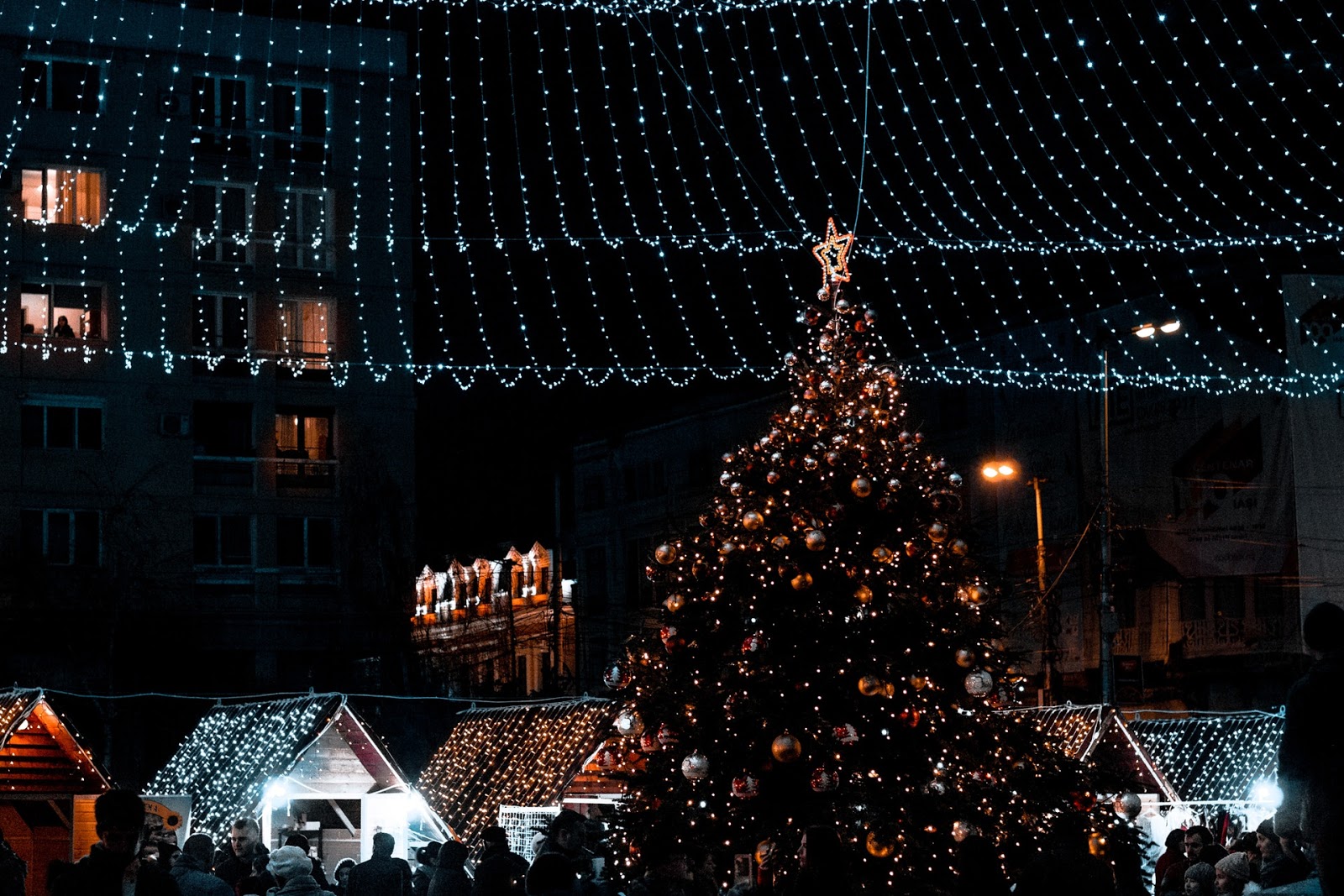 The Ticketsolve Festive Features Helping You This Holiday Season
Whatever type of magic you are weaving this holiday season, we've got your back! Let's take a look at some the features that will help support all you are doing this time of year.
Timed Entry
Ticketsolve's flexibility allows for multiple types of ticket purchases i.e., allocated, unallocated, best available all across multiple time slots (e.g timed entry). Patrons can purchase tickets in advance or on the day for a specific time slot. Each time slot will have a set number of places available, once sold out they will be presented as sold to the end user (Please see the below example of time entry).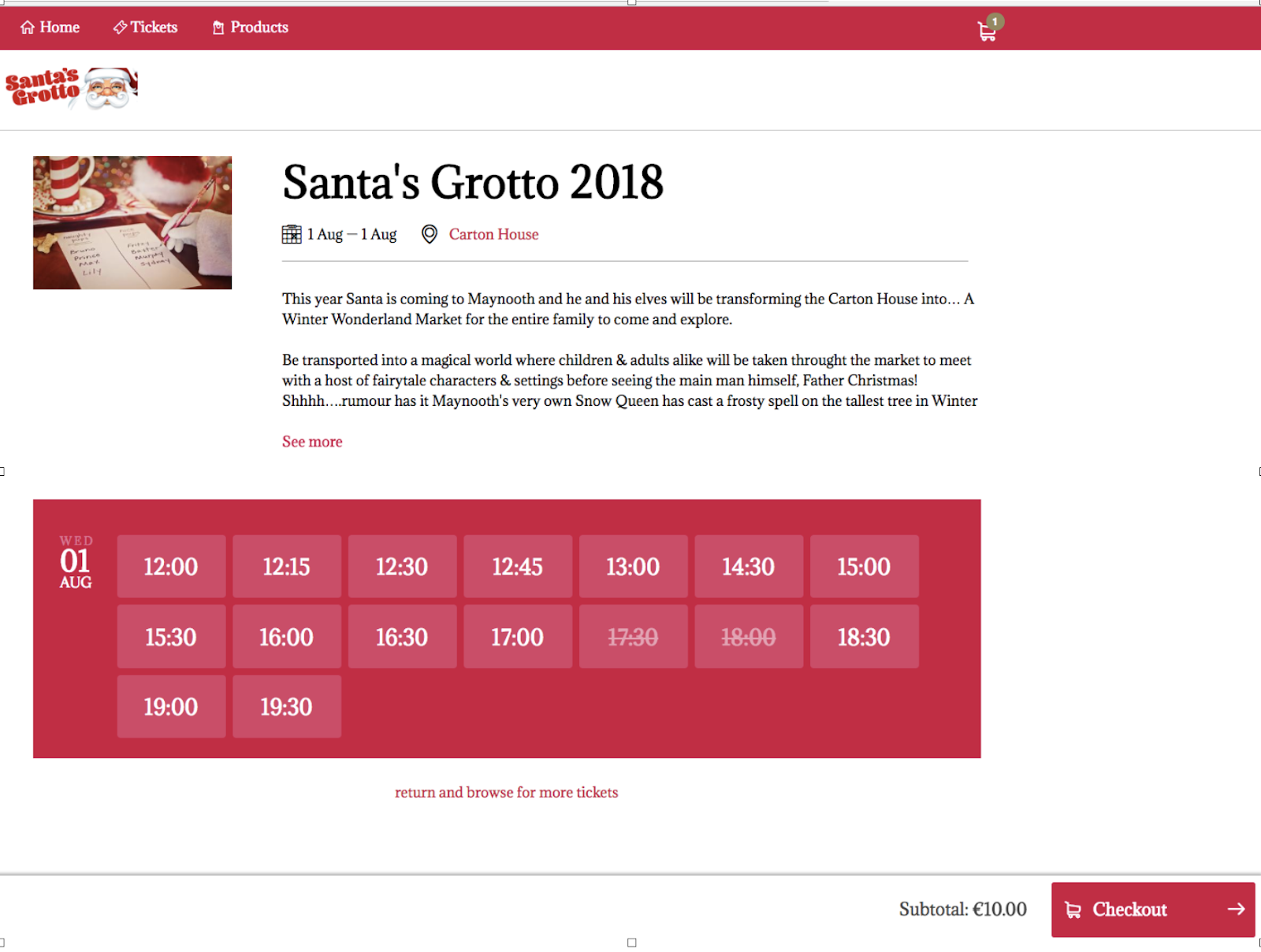 Ability to service multiple events
To create events within Ticketsolve, the user inputs the following information into clearly defined fields; show title, genre, programme, show description, show imagery and appropriate promotional videos associated with the production. The user also has the option to add tags and a show ref code (mainly used by the accounts dept).
This data can be used to populate your website through our XML/API feeds, thus avoiding the need to add the show pages into your CMS. Ticketsolve provides seamless website integration to help build customer loyalty, enhance customer confidence and deliver an ideal ticketing experience by selling tickets through your branded website. Our integrated online sales engine offers you 24/7 sales, thus automating your box office requirements and increasing revenue with the ability to handle high transaction volumes. With Ticketsolve, you no longer need to populate multiple databases with your venue, event and customer detail. Our system will provide you with a single source for your data and CMS requirements while populating your website with constantly updated information. This can all be done in addition to running as many uniquely branded microsites as you wish.
Scanning- let Santa know who is on their way
Ticketsolve's scanning feature allows you to control access to your events through mobile handheld devices. Ticketsolve's fully integrated software and hardware solution provides a convenient and cost-effective solution for you and your customers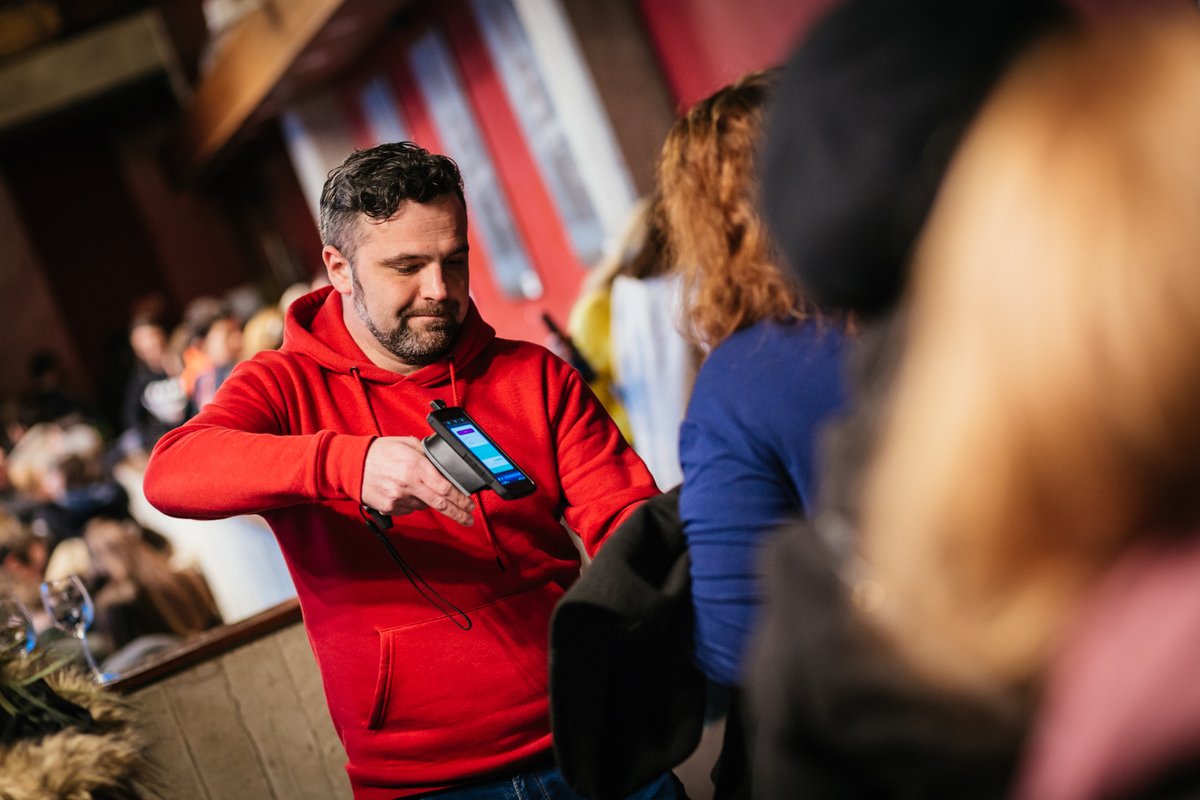 Extras Feature - what does your customer want for Christmas?
This feature allows you to collect extra information. Collecting this information is powerful, and allows us to further develop and build meaningful relationships with customers. 'Extras' allows you to ask specific questions during the booking journey depending on what ticket price they add to their cart. These questions are then added as an extra step in the booking process online and at the box office. The answers to these extras can consist of a drop-down menu or an arbitrary field.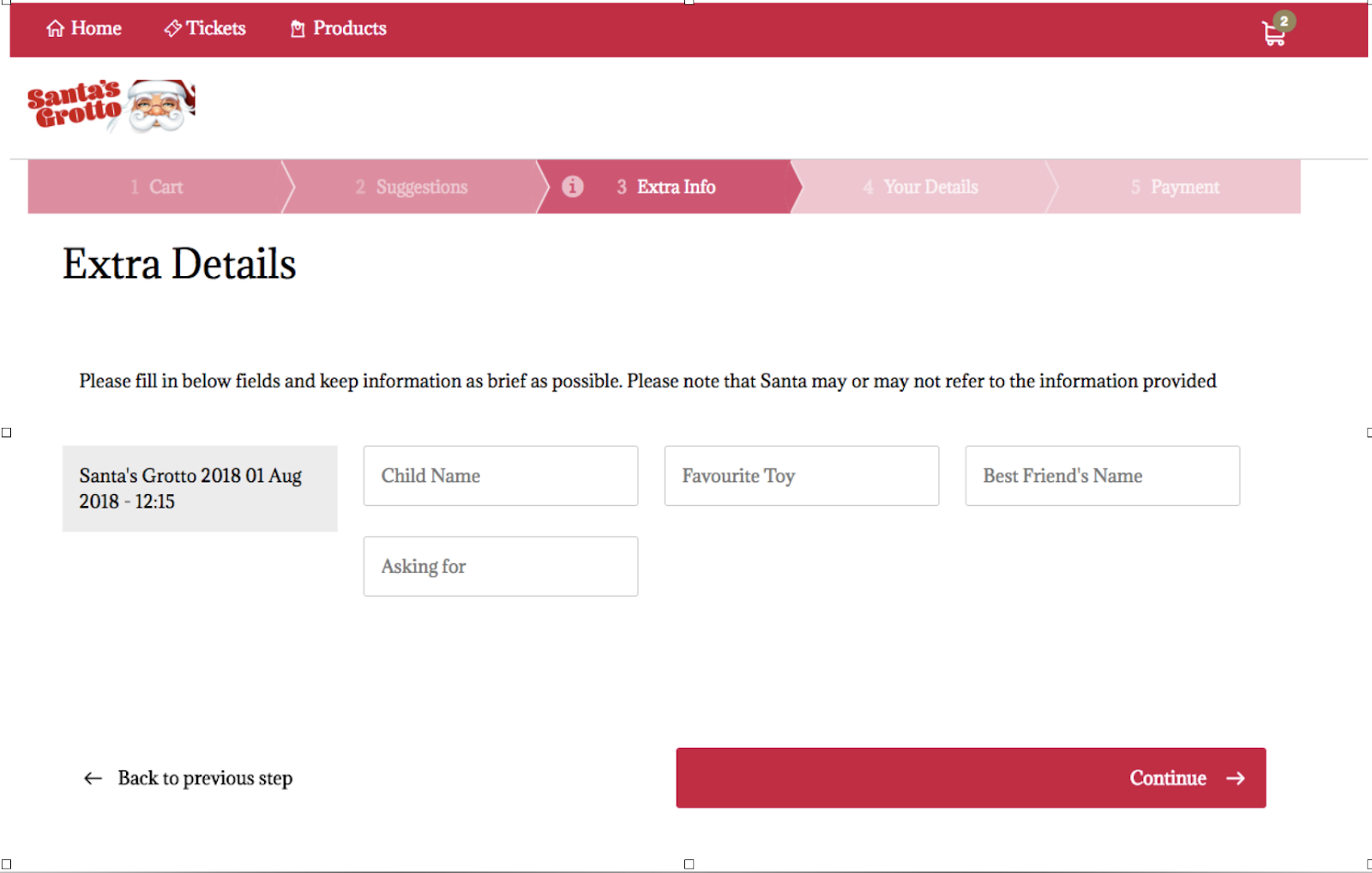 Marketing Automation - Dear James, don't forget I check my lists twice! From Santa
Send automated emails to your patrons from MailChimp! When a customer buys an ice skating ticket, an automated mail can be sent to them recommending gloves, a Christmas photo on the rink, or skating lessons. Some automation workflows that you can use are: first-time customers, lapsed customers, best customers and fundraising campaigns.
Social Media Integration - Ice Skating poses are ideal for Instagram!
Ticketsolve has a full ecommerce integration with Google Analytics, which enables your marketing team to view one report to analyse all campaigns in one place and more importantly the KPI's from each, including the number of customers visiting your website and those visits which convert into transactions.
Ticketsolve integrates with Google Tag Manager, which means that your team are able to install Facebook's Conversion pixel which will offer instant visibility on the ROI for each campaign you run. Facebook Ads Manager summarises each campaign so in order to analyse how much is spent on each campaign, how many people clicked on that campaign but more importantly, how much revenue is generated from the customers clicking on the campaign.
Facebook Remarketing is very effective and can give an increase in ROI by up to 300%. Remarketing fires adverts at customers who have already been to your website and are already aware of your organisation. Over the last year, our customer Pavilion Theatre has run over 300 campaigns on Facebook with a reach of over 350,000 potential customers. What is significant is the ROI they achieved from these campaigns. With their Facebook campaigns, Pavilion reached an average ROI of 680%; one particular campaign saw an ROI of almost 4000%.
Waiting Lists - don't let any time for Santa go to waste!
Our dynamic waiting list feature (online and through the box office) allows customers to be added to a list for a sold-out event. Should tickets become available, the list can be used to reallocate the tickets to the next person in line ensuring that an event is sold to its full potential and that no slots go unfilled.
Upselling and Cross Selling - Framed photo with Santa, a memory to treasure.
Ticketsolve incorporates a range of cross-selling and up-selling tools, both from the box office and online. In addition to event recommendations, related merchandise and services can be offered at the point of purchase, enabling customers to pay for their entire event experience through one simple platform.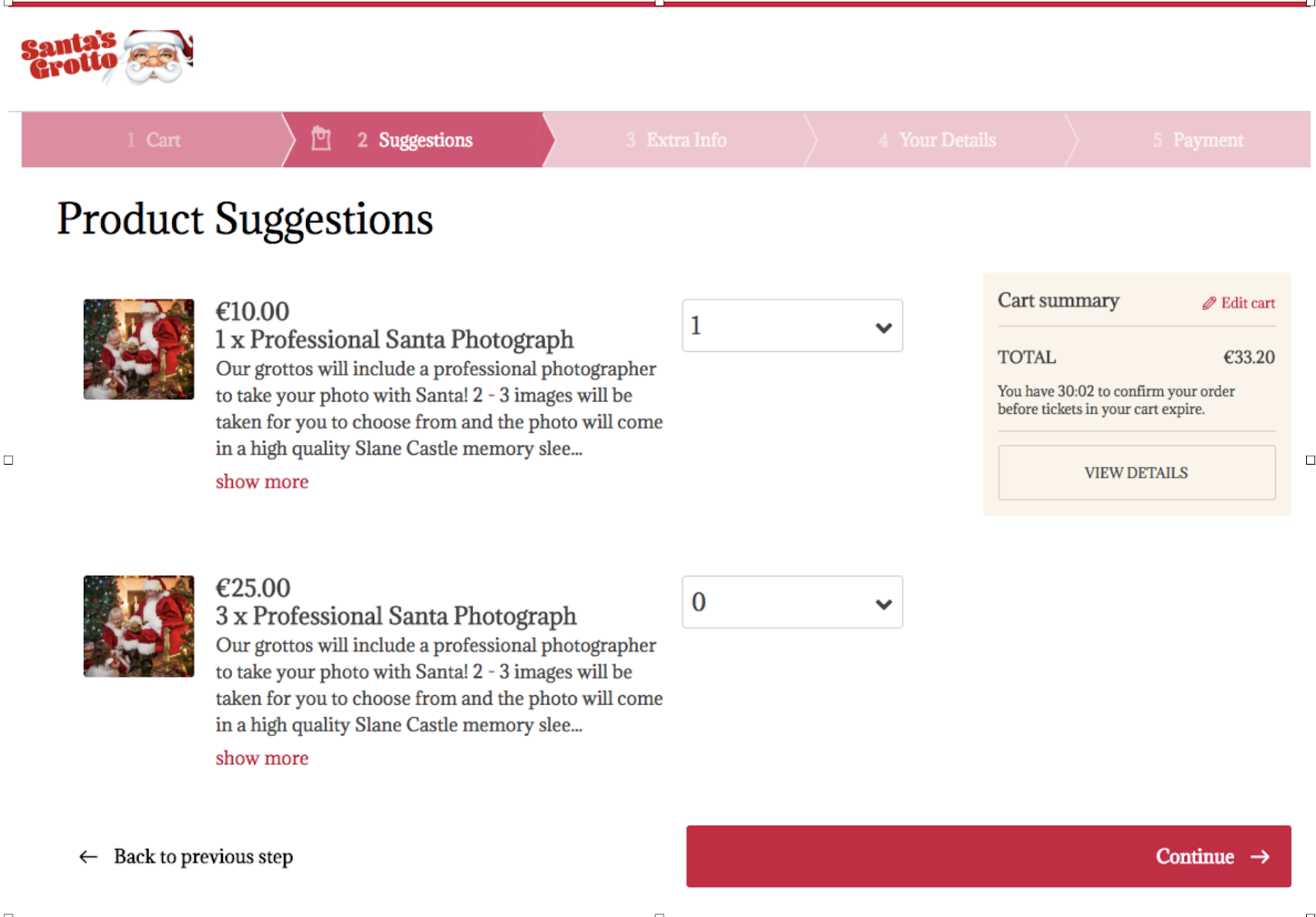 24/7 Support - having some Sleigh trouble?
Support exactly when you need it – 24 hours a day, 7 days a week along with our helpdesk which is packed full of Tips and Ticks, best practice tools, community forums.
Our Customers
Check out our festively festooned customers!


Centre of Excellence Santa's Grotto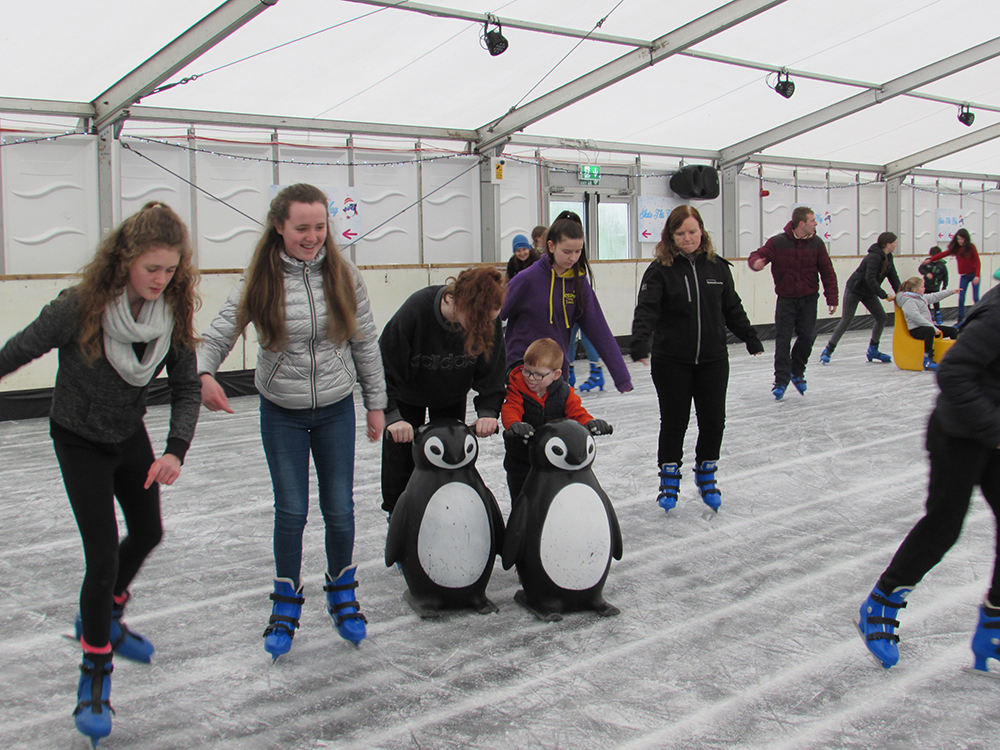 For any bustling event, it is important to make sure that you are getting the best out of your current system. Your system needs to be constantly evolving and have in-depth marketing integrations with a knowledgeable support team to help you reach your organisational goals.
Ticketsolve provides all this and more. The above highlights some of the many different features which are available to you and if you would like to see the system in action we can organise a free demo.
We look forward to hopefully hearing from you soon!
P.S. Don't forget to take a crack at solving the Ticketsolve Christmas Conundrum! Lots of fantastic prizes to be won!

Explore Blog
Sign up for regular updates
You may also be
interested in...