Ticketsolve UK User Day: Networking, Learning, Sharing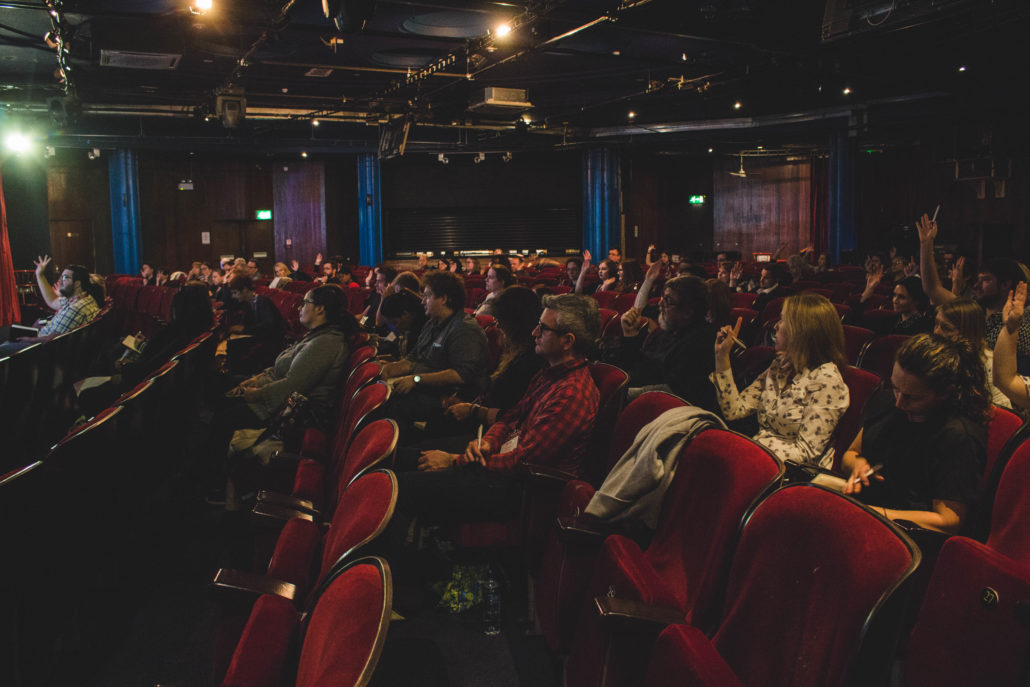 If you couldn't make it on the day or are just interested in what happened, we have written all about it below. If you would like to get a copy of any of the presentations from the day, please get in touch at talktickets@ticketsolve.com we'd be happy to forward them on.
Welcome
To kick off the day, Paul, our managing director, opened the day with a big welcome, and outlined what the day had in store. The day was packed full, but with plenty of time for everyone to get to know each other during lunch and after the event.
Session 1: Using Digital Marketing to Grow Ticket Sales
Christina Jones - Black Type Digital
Christina Jones, MD of the digital agency Blacktype Digital, spoke about how to best use digital marketing techniques to boost ticket sales. She focused on remarketing, one of the best opportunities to re-engage customers to purchase tickets. Christina also spoke about Facebook chat bots which seemed to be an exciting area; however the technology is still very new, so only time will reveal its ultimate effectiveness. If you want to know more about how to utilise the tools that Christina spoke about, please get in touch with our lovely support team - they can help get you started.
Session 2: Creating the Perfect Campaign Playbook
Paul Fadden - Ticketsolve
Paul jumped back on stage to talk through our latest playbook: How to Create the Perfect Campaign. It's a seven step plan that is really easy to follow:
Set a clear goal
Who is your audience
Build Your Message
What channels to use
Budgeting
Engaging content
Adapt your campaign
We have each playbook available in digital format, and we will be bringing out some blogs in the near future to share them all with you. If you can't wait until then, please get in touch with us at talktickets@ticketsolve.com and we will be more than happy to send it on.
Session 3: Customer Profile: How Hertford Utilise Ticketsolve to Optimise their Marketing Activities
Emma Parlow & Rebecca Butcher - Hertford Theatre
Hertford Theatre showcased how they use Ticketsolve to develop their marketing strategy and improve the effectiveness of their campaigns. Both Emma and Rebecca said that rather than change the platforms that they use, they dramatically changed how they use those platforms. Below are some of the key areas of improvement:
Mailchimp - Each email that is sent out, is targeted to a specific segment of their audience. This has lead to a huge increase in open and click through rates along with increased ticket sales from those specific campaigns. Another big improvement was the use of automation in targeting first time customers and lapsed customers.

Facebook - They now post more behind the scenes stories which has increased engagement with their audiences. Taking advantage of Facebook remarketing and conversion pixels, allows them to target their audiences, and also understand the success of each campaign.

Segmentation - Emma and Rebecca also discussed their use of Ticketsolve's Your Reports, which they use a lot to segment each customer for individual campaigns.

Google Analytics - Using Google Analytics much more deeply, Hertford can see each digital marketing campaign that they run, see how many people come onto the website from that campaign and more importantly see how many tickets are sold from that campaign. They also have a cool dashboard emailed to them on a weekly basis.They also finished the presentation with some takeaways for everyone and it was all centered around "don't worry, try it, if it doesn't work, tweak it and try it again".
Session 4: Fundraising Tips & Tricks
Nick Stevenson - Ticketsolve
Nick took everyone through Ticketsolve's Fundraising playbooks. We know that everyone in this industry is busy and normally do multiple jobs. And while some are lucky to have a full time fundraising team, for many this is not the case. The ideas in the playbook are designed to so that you can really start seeing increases in your fundraising activities without having to do much at all; more with less. Some of the main points from the talk were:
Using the right hook for your fundraising pages
Establish an emotional connection with your audiences
Nudge tactics
A picture paints a 1000 words
Recommend a donation
Donation prompts through the booking journey
Follow up with customers one they leave a donation
Have clear goals
Create specific fundraising campaigns
Get buy-in from the whole team
Session 5: GDPR - Facts from the Fiction and How the Sector Can Use the Changes to Their Advantage
Oliver Mantell - The Audience Agency
Oliver from the Audience Agency delivered an excellent presentation on GDPR. Nothing scary at all - just focused on the main change: accountability. Luckily enough the Ticketsolve system is good to go with GDPR, but their are some organisational changes required such as appointing a data controller and so on. Before the presentation, everyone was a little apprehensive however Oliver made GDPR sound like a walk in the park, and you could see the relief on everyone's faces by the end!
Session 6: Box Office Best Practice Playbook
Aoife & Katy - Ticketsolve
Katy and Aoife have both worked in venues previously as box office managers so who better to deliver this insightful and educational presentation! It was all about how box office teams can implement ideas to improve their customer service, box office efficiency and sales. Some of the points that they covered were:
SMART goals

Make use of downtime

Train staff on the value of data

Implement a call script for the box office
Session 7: Ticketsolve Future
Paul - Ticketsolve This was the session that everyone was looking forward to the most - even us Ticketsolvers! We couldn't wait to show everyone what is coming down the tracks. Paul began with showcasing some conclusions from the front end project. There were some really telling stats, for example, the average conversion rate on the legacy front end was around 1.8%, but with our new front end - conversion rates are up at the 6% mark. Paul then moved onto the big unveiling where we showed everyone our new back end. We'll be sharing more over the coming months - so stay tuned!
Session 8: Ticketsolve Tips and Tricks and Q&A
David & Conor - Ticketsolve We closed the day with David and Conor talking about helpful tips and tricks, and how to get the most out of Ticketsolve. They then opened up the floor to questions which generated some interesting discussions.

Well, I hope that has given you a flavour of what the day was like. As we mentioned above, if you would like copies of the slides or playbooks, please drop us an email at talktickets@ticketsolve.com.
Explore Blog
Sign up for regular updates
You may also be
interested in...